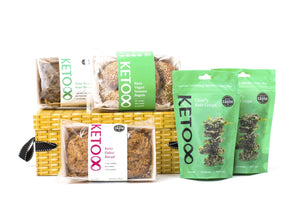 The perfect hamper for someone on a Keto / low carb diet chock full of savoury goodies.
The Keto Savoury Hamper contains: 

- 1 Keto Vegan Sesame Bagels, 240g  
- 1 Keto Kale Bread, 400g 
- 1 Keto Paleo Bread, 400g  
- 2 Chee*y Kale Crisps, 30g   
Please see individual product pages for ingredients, nutritional and allergen information. If this is a gift, please let us know your message and we'll include a personalised note. The Hamper will be sent in the card hamper box, as shown in the picture.