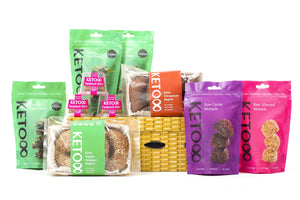 The Keto Starter Kit is the perfect hamper to kick start a Keto / low carb diet without feeling deprived or like you're having to forgo anything, like bread. The only way to stick to a diet or lifestyle is to have the right alternatives that satiate and satisfy. 
The Keto Starter Hamper includes: 
- 1 Vegan Sesame Bagels, 240g  
- 1 Vegan Cinnamon Bagels, 240g  
- 1 Cacao Morsels, 120g
- 1 Almond Morsels, 120g 
- 3 Caramel Slices, 40g 
- 3 Kale Crisps, 30g  
Please see individual product pages for ingredients, nutritional and allergen information. If this is a gift, please let us know your message and we'll include a personalised note. The Hamper will be sent in the card hamper box, as shown in the picture.