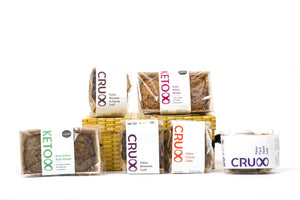 A perfect gift for the Paleo diet enthusiast. The Paleo diet is all about eating like our hunter-gatherer ancestors, i.e. grain, dairy, legume, refined sugar-free. 
The Paleo Hamper includes:

- 1 Original Bread, 400g 
- 1 Kale Bread, 400g  
- 1 Paleo Brownie, 200g 
- 1 Paleo Carrot Loaf, 250g 
- 1 Paleo Fig & Apple Loaf,250g 
- 1 Paleo Banana & Cacao Loaf, 250g 
Please see individual products for ingredients and nutritional information. We're happy to substitute a different flavour bread or cake. If this is a gift, please let us know and we'll include a personal note.