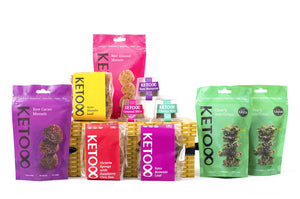 The ideal gift for those who need a little guilt-free indulgence in their lives! This hamper is perfect for those on a keto / low carb diet and looking for some inspiration to stay motivated. 
The Keto Indulgence Hamper includes:  
- 1 Raw Brownie, 40g
- 1 Caramel Slice, 40g 
- 1 Energy Bite, 40g  
- 1 Raw Cacao Morsels, 120g 
- 1 Raw Almond Morsels, 120g
- 1 Blondie Loaf, 200g
- 1 Victoria Sponge, 200g  
- 1 Keto Brownie Loaf, 200g 
- 2 Chee*y Kale Crisps, 30g 

N.B. some of the products in this hamper need to be refrigerated upon receipt. If you require the hamper delivered on a certain date, please let us know. Please see individual product pages for ingredients, nutritional and allergen information. If this is a gift, please let us know your message and we'll include a personalised note. The Hamper will be sent in the card hamper box, as shown in the picture.